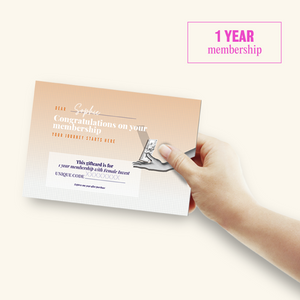 Print-it-yourself Gift Card - 1 Year Membership
Regular price
$123.00
$0.00
Unit price
per
Tax included.
Let's Kickstart Our Investment Journey Together!
What's included
Print-It-Yourself Gift Card: 1 year membership
- 30+ video courses
- Masterclasses with expert speakers
- Live and recorded webinars
- Magazine with new articles every week
- Access to online community where you can talk to other members
(859 DKK value)
'Introduction to Investing' E-Book
This e-book is your BFF when embarking on your investment journey. Let's start
from scratch and set you up for financial success.
(99 DKK value)

Total value 958 DKK - Save 209 DKK
*The gift card is valid 1 year after the date of issue unless otherwise stated.